2023 AFLAC OPEN ENROLLMENT
Premier Worksite Benefits Customer Service: (866) 463-8808, option 4 (Monday – Friday 9am – 4pm EST)
As an employee of ANDRUS ON HUDSON, you may be eligible to participate in our Voluntary Benefits Program.  Voluntary Benefits are offered to help address the individual needs of you and your family with advantages that otherwise might not be available to you on your own.  Your voluntary benefit offerings are designed to complement your benefits package and provide additional security for you and your family.
All Eligible Employees (works a minimum of 30 hours/week): It Is recommended  to call Premier Worksite Benefits Customer Service to learn about the valuable benefits, ask questions and enroll if you choose to do so.
What do you get?
Options: You may choose your level of coverage; one that both fits your needs and is easy on your paycheck.  Your decision will not change the benefits being provided under any employer-sponsored benefit program.
Convenience: Voluntary benefits are paid through the convenience of payroll deduction
Acceptance: In many cases, you and immediate family members will have a better opportunity to obtain coverage through this offering than you would on your own, especially if any medical conditions or concerns are present.
Portability: Many of these programs may be taken with your with no change in premium or benefit if you leave employment or retire.
Aflac Accident Insurance
Unexpected accidents can also mean unexpected out-of-pocket expenses. Hospital stays, medical or surgical treatments, dislocations or fractures, and transportation by ambulance can add up quickly and be very costly. Accident Insurance can help with some of these expenses so your finances can remain healthy.
Guaranteed Acceptance – you may qualify for coverage regardless of health
Benefits are paid directly to you – use the money however you see fit
Coverage is available to you, your spouse and dependent children
On and off the job coverage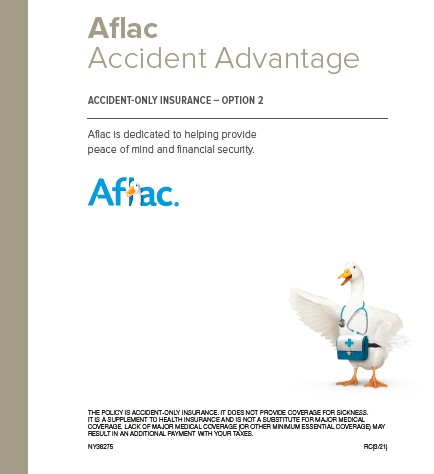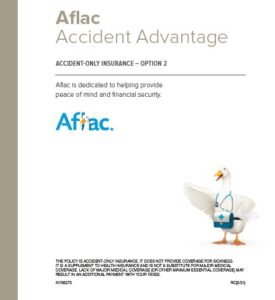 Aflac Cancer Insurance
No one knows what lies ahead on the road of life. It is estimated that 2 million perople will be diganosed with Cancer this year. The signs pointing to a Cancer diagnoses are not always clear and may not be preventable, but Cancer Insurance can help offer financial protection in the event you are diagnosed.
Lump-sum cash benefit paid directly to you
No deductible to meet to receive benefits
No networks – freedom to choose your provider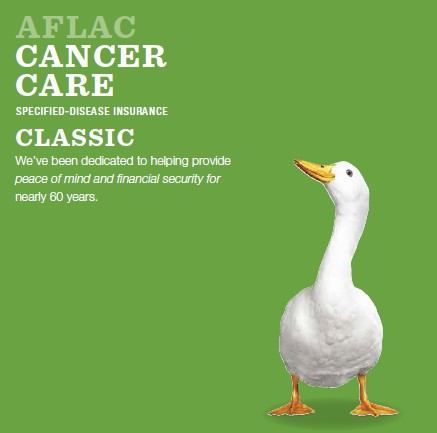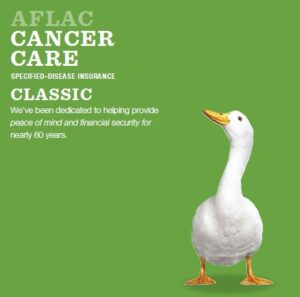 Aflac Hospital Indemnity Insurance
Visits and stays at a hospital can be costly. A Hospital Indemnity Plan can complement your medical coverage by helping to ease the financial impact of a hospitalization.
Lump-sum cash benefit paid directly to you
No deductible to meet to receive benefits
No networks – freedom to choose your provider
Aflac Hospital Indemnity Brochure